Bulk Carriers and different Types of them :
A bulk carrier is a ship designed to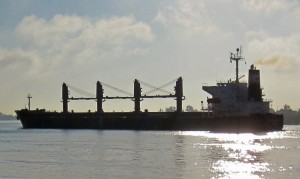 transport dry or liquid rel="noopener noreferrer">bulk cargo, such as grains, coal, iron ore, and cement. Over the years this ship type have grown in size and sophistication. Today's bulkers are specially designed to maximize capacity, safety, efficiency, and to be able to withstand the rigors of their work. Bulkers represents about 40% of the worlds merchant fleet and the development of freight prizes are often used as an indicator of the world economy through the Baltic Dry Index.
Bulker Size & Classes
Bulker are categorized into four main classes, Handysize, Handymax/Supramax, Panamax, Capesize that describe their size. The unit used for defining size of bulkers is DWT (dead weight tons) also known as "metric dead weight tons" and describes how much weight a ship can carry.
Handysize: DWT 10 000 – 35 000
Handymax/Supramax: DWT 35 000 – 59 000
Panamax: DWT 60 000 – 80 000
Capesize: DWT 80 000 ≤
Further, there are also a number of abbreviations to describe bulk carriers especially in the lager segments with terms like "VLOC" (very large ore carrier), "VLBC" (very large bulk carrier), "ULOC" (ultra large ore carrier), "ULBC" (ultra large bulk carrier).
Bulker types & design
General Design
A bulker is designed with one (smaller vessels) or several cargo holds and it is purpose (the type of cargo it will carry) that defines the design of the ship. Speed of the vessels is between 13 to 15 knots and depending on size they can be equipped with either two-stroke or medium speed engines. Hatch covers that covers the cargo holds covers about 60-70% of cargo holds length. In order to maximize loading and off loading efficiency the hatches should be as large as possible but it also presents structural problems and increased stress to the hull.
Bulker types
Bulkers can be split into two main categories "Geared Bulk Carriers" and "Gearless Bulk Carriers". A "Geared" carrier means that the ship is equipped with equipment for loading and off loading a port. Thus, this type is not dependent on land based equipment. A "Gearless" carrier is the opposite, a ship that need assistant from equipment installed at port.